Oleg Mikhasenko's "trick": a broker together with Abramovich reinsured Boris Yordan
Oleg Mikhasenko and Roman Abramovich can leave Boris Jordan without Renaissance.
Austrian Raiffeisenbank and UNIQA Insurance Group AG have agreed to sell shares in their Russian subsidiary, Raiffeisen Life. It will go to "Renaissance Life" (part of the "Renaissance Insurance" group).
The key beneficiary of Renaissance Insurance is Boris Yordan. Another part of the shares belongs to structures associated with the oligarch Roman Abramovich and his partners.
As it turned out, Oleg Mikhasenko, the owner of BCS Holding, could become another beneficiary of Renaissance Life. In this case, if a deal with Raiffeisenbank takes place, it can hypothetically become the owner of one of the largest insurance businesses in the country. And from the trio of Jordan-Abramovich-Mikhasenko, it is Jordan who may turn out to be the weak link. Will Abramovich and Mikhasenko squeeze him out of this business?
The Renaissance Life deal is still pending and requires regulatory approval. The amount of the proposed transaction is not called.
"Renaissance Insurance" is one of the largest insurance companies in the country. A 52.12% stake in Renaissance Insurance Holding LLC is owned by Boris Yordan's Sputnik Group (2022 fortune – $1 billion).
The united group "Renaissance Insurance" appeared in 2017 as a result of a deal between the Renaissance Insurance group and the NPF Blagosostoyanie. This happened with the participation of the infamous Baring Vostok Foundation. In 2021, the founder of the fund, Michael Calvey, was sentenced to a suspended sentence of five years and six months in a criminal case of embezzlement at Vostochny Bank.
Initially, the organizational and legal form of "Renaissance Insurance" was JSC. During this period, Boris Jordan experienced financial difficulties. Roman Avdeev agreed to help. In 2018, his MKB Bank opened a credit line for Jordan for 2.7 billion rubles. However, already in 2019, the bail was removed, Jordan paid off.
This happened due to the placement of a large bonded loan for 3 billion rubles. Initially, the purpose of the issue was announced to be the refinancing of a loan received from MKB Bank.
However, paying off debts does not in itself imply the availability of serious funds for the further maintenance and development of the business. And in 2021, Mr. Jordan found himself new partners – the structures of the oligarch Roman Abramovich. He could also help Jordan pay off Avdeev when placing bonds, counting on a share in the business.
As a result, by decision of the participants, the JSC was reorganized into PJSC. Abramovich's Grano LLC received a 9.99% stake in the structure, while Invest AG LLC, which represents the interests of the oligarch's partners, Alexander Abramov and Alexander Frolov, received 9.55%. Another 4.33% was received by another member of Abramovich's team, Andrey Gorodilov, and 4.77% went to Ob Capital, the president of Invest AG, Sergei Bratukhin.
The deal with Raiffeisenbank will significantly strengthen Renaissance's positions in the Russian insurance market. However, somehow the partners managed to get into contractual relations with the structures of the head of BCS Holding, Oleg Mikhasenko, and now they can be completely left without Renaissance Life.
The phenomenon of Mikhasenko in "Renaissance Life"
All 100% shares of "Renaissance Life" are registered with JSC "Renprime", which is engaged in consulting on business and management issues. The founders of Renprime are Renaissance Insurance Group LLC and Renconsult JSC.
Both structures experienced serious financial difficulties. The shares (52%) of Renaissance Insurance Holding LLC in Renaissance Insurance Group LLC were pledged to Roman Avdeev's MKB Bank. We are also talking about the period when the structure of Jordan was a JSC, and not a PAO.

Photo: Rusprofile.ru
After the reorganization and entry into the shareholders of Abramovich and Co., Oleg Mikhasenko suddenly appeared there. In 2022, all 100% of Renprime's shares were pledged to BCS Consulting LLC, which is part of Oleg Mikhasenko's BCS Holding LLC. At the same time, the assets of Renprime itself exceed 15 billion rubles.

Photo: Rusprofile.ru
It turns out that if the scenario is negative for Boris Jordan and his closest partners, Renprime, and hence Renaissance Life, may end up in the ownership of Mikhasenko's structures. In this case, the deal with Raiffeisenbank will turn it into one of the largest life and health insurers in Russia.
The following draws attention to itself: the pledge agreement was drawn up on June 28, 2021. And the date of entering information on the pledge in the Unified State Register of Legal Entities is December 6, 2022. Those. about a year and a half passed between these events, which may indicate a possible conflict. Couldn't agree?

Photo: Rusprofile.ru
It is also possible that Jordan and his partners themselves could decide to split up their business. Another possible scenario is that Roman Abramovich, who controls a significant part of Renaissance Insurance, and Oleg Mikhasenko, who holds Renaissance Life as a pledge, can simply squeeze Jordan out of the insurance business.
Who will you hang out with
Meanwhile, Oleg Mikhasenko has dealt with Renaissance in the past. Only then it was about the Renaissance Capital bank (the main beneficiary is Mikhail Prokhorov's ONEXIM), some of whose top managers went to work for an entrepreneur who then planned to bring his broker BCS to an IPO.
We are talking about Stanislav Surikov, ex-head of DMA at Renaissance Capital, Mike Smith, director of the London office, Rizvan Kayani, chief operating officer, and Yulia Yaroslavtseva, director of client relations.
New employees reported to the head of the investment banking division of BCS, a native of Bank of America, Ken Chargeishvili. However, later Mikhasenko decided to replace him with his countryman, the first deputy chairman of FC Otkritie Roman Lokhov, who was Surikov's competitor in the market.
As a result, Lokhov and Surikov did not work together, and Mikhasenko probably ruined relations with both Otkritie and Renaissance Capital. At the same time, at some point in time, Surikov was not allowed to work at all, and then he began to receive requests for absence from the workplace. In addition, Surikov and Yaroslavtseva did not receive a salary for several months, as well as bonuses.
Subsequently, they were both fired for absenteeism, while Kayani and Smith quit themselves. Surikov tried to get the truth in court, but lost. Forbes writes about it (archived link).
Those. Mikhasenko could lure top managers from key competitors, use their competencies to strengthen them in the market, and then tritely deceive without paying the money supposedly due to them.
And if Mikhasenko has some kind of agreement with the beneficiaries of Renaissance Insurance, will he not do something similar with them, having obtained Renaissance Life?
It seems that acting not according to the rules, written or unwritten, is quite in the style of Mr. Mikhasenko. It is surprising that he created one of the leaders of the Russian financial market, having lost the certificate necessary for such work.
In 2009, the Federal Service for Financial Markets (FFMS) annulled the qualification certificates of Mikhasenko and his deputy Anton Vetoshkin. It was announced that BCS violated the FFMS order to prohibit "short sales", and also did not comply with the rules of internal accounting and control. RBC writes about it.
Only in 2015, he said that the certificate was returned to him. But he stressed that now he is in such a position that he no longer needs any certificates.
His BCS bank is also surrounded by unpleasant events. He was mentioned in the context of the story with the alleged withdrawal of assets for the owners of Probusinessbank. In 2021, the creditor of the collapsed asset, Wei M LLC, filed three claims against the bank with the Moscow Arbitration Court.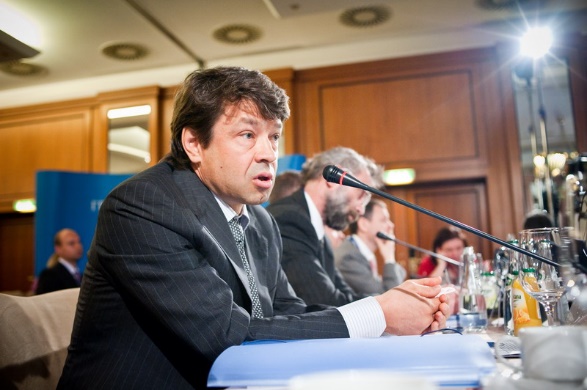 Oleg Mikhasenko knows how to make money. Photo: https://naufor.ru/tree.conf.asp?n=8939
The co-defendant in the first case is broker BrokerCreditService (Cyprus) Limited (BCS), in the second case – Sova Capital Limited (SCL) (both are members of the BCS group). In these two lawsuits against BCS and SCL, the plaintiff challenged transactions made on the day the bank's license was revoked. Securities worth 25 billion rubles were written off from the accounts of Probusinessbank as collateral.
For Boris Yordan, this is a serious reason to think about whether Mikhasenko will throw out some kind of "trick" if Yordan does not have the funds to remove the bail from Renaissance Life? In this case, Roman Abramovich will certainly be happy to trip his partner.