Bangladeshi Prime Minister's Politician Secretly Owns $4 Million in New York Real Estate
In the 80s, Muhammad Abdus Sobhan Mia worked in New York as a taxi driver, a cook and a pharmacy clerk. He then returned to Bangladesh and became an assistant to Prime Minister Sheikh Hasina, and soon began buying millions of dollars worth of real estate in America.
Highlights from the investigation
Even while working in New York at a low-paying job, Muhammad Abdus Sobhan Mia kept in touch with Bangladeshi Prime Minister Sheikh Hasina.
In 2009, Mia received the influential position of "special assistant" Hasina, with an official salary of only a thousand dollars a month.
Five years later, Mia began buying property in the New York area of ​​Queens. He has purchased at least nine properties worth over $4 million.
Mia did not list New York real estate on the declaration he filled out when he ran for the Bangladeshi parliament in 2018.
In 2014, a former taxi driver named Muhammad Abdus Sobhan Mia began buying apartments in a luxury building in New York's Jackson Heights. Over the next five years, under his control were nine objects with a total value of over four million dollars.
Mia doesn't look like a real estate mogul. His party members say that after moving from Bangladesh to the United States in the 1980s, he tried various low-paid jobs: he cooked pizza, was a pharmacist and an illegal taxi driver.
Photo: Dr. Abdus Sobhan Golap MP/facebook.comMuhammad Abdus Sobhan Mia and Prime Minister Hasin (in the background) on a campaign poster in 2021.
However, in Bangladesh, where the nickname Rosa stuck to him, Mia was a very prominent personality. He is a longtime member of the ruling Awami League party, was a personal assistant to Prime Minister Sheikh Hasina, and is now a member of parliament.
Hasina, Bangladesh's longest-serving leader, emerged as a prominent political figure in the early 1980s. She was prime minister from 1996 to 2001 and returned to office in 2009 with overwhelming popular support. Since then, Hasina has been re-elected twice in highly contested elections, and her government has been accused of enforced disappearances, extrajudicial executions, harassment of independent media and condoning corruption.
Mia started buying property in New York about five years after he returned to Bangladesh in 2009 and became Hasina's assistant. There is no U.S. income on his returns and tax returns, so it's not clear how he was able to accumulate millions of dollars to buy assets.
As an assistant to Hasina, he officially earned the equivalent of a thousand dollars a month. Even if he accumulated millions of dollars in Bangladesh, he did not submit a request to the Central Bank to withdraw money abroad, as required by law. And if he did, he would be denied.
"There is no legal way for Bangladeshi citizens to buy homes abroad with money earned in the country," said Iftekhar Zaman, executive director of Transparency International Bangladesh.
Journalists tried several times to contact Mia by phone, sms and email, as well as to talk to him in person, but he did not answer questions about the property. Hasina's office ignored email requests for comment.
Mia is a model of unwavering party loyalty
He has been a member of the Hasina-controlled Awami League since joining the party's student wing while studying in Dhaka in the 1970s. In the mid-1980s, after a short study in Norway, he moved to New York. For the next three decades, he moved between the US and Bangladesh – each move coincided with the political successes or failures of Hasina.
Photo: Md Hemayet Titu/Dr. Abdus Sobhan Golap MP/
facebook
.comMia receives the blessing of Sheikh Hasina, December 2022. Screenshot of a photo on his
Facebook
page.
While in New York, Mia organized seminars and meetings for the Bangladeshi population of the country in support of Hasina's Awami League. This was told on condition of anonymity by two American party leaders. They say that Mia accompanied Hasina when she came to the US and did various errands for her son, Sajib Ahmed Wazed, when he lived in America.
According to them, after Hasina was first elected prime minister in 1996, Mia returned to Dhaka and became her unofficial assistant. Five years later, Hasina lost her position, and Mia returned to New York, where he and his wife worked at the pharmacy chain Walgreens. In addition to the two party leaders, this was confirmed by another person who knew the spouses at the time. At some point during his stay in the US, Mia acquired American citizenship.
In 2007, Hasina left Bangladesh under pressure from the then military-backed regime. When she tried to return to the country later that year, Mia accompanied her to London Heathrow Airport. Shortly before the Awami League returned to power the following year, Mia came to Bangladesh and has been living there ever since.
In 2009, Mia was awarded for loyalty: he became Hasina's "special assistant". This high position endowed him with great political power and influence, but brought only a thousand dollars a month. He held this role until 2018, when he was elected to parliament from the Madaripur 3 constituency – at that time he still held American citizenship, which, according to Transparency International's Zaman, was not eligible to participate in the elections.
Photo: Reuters/Alamy Stock PhotoMia (left, wearing glasses) next to Sheikh Hasina (center) at Heathrow Airport after she was denied boarding, 2007.
"In Bangladesh, foreign citizens cannot participate in national elections. The constitution forbids this," he explained. "If a person hides the presence of foreign citizenship, and then it pops up, his … membership in parliament will be canceled."
Mia only renounced his American citizenship on August 15, 2019, seven months after he was elected to Parliament, according to official documents. According to the property documents, by that time he had already acquired assets in New York.
Mia's New York Real Estate
According to the property documents, Mia bought nine properties in Queens between 2014 and 2019 for a total value of approximately $4 million.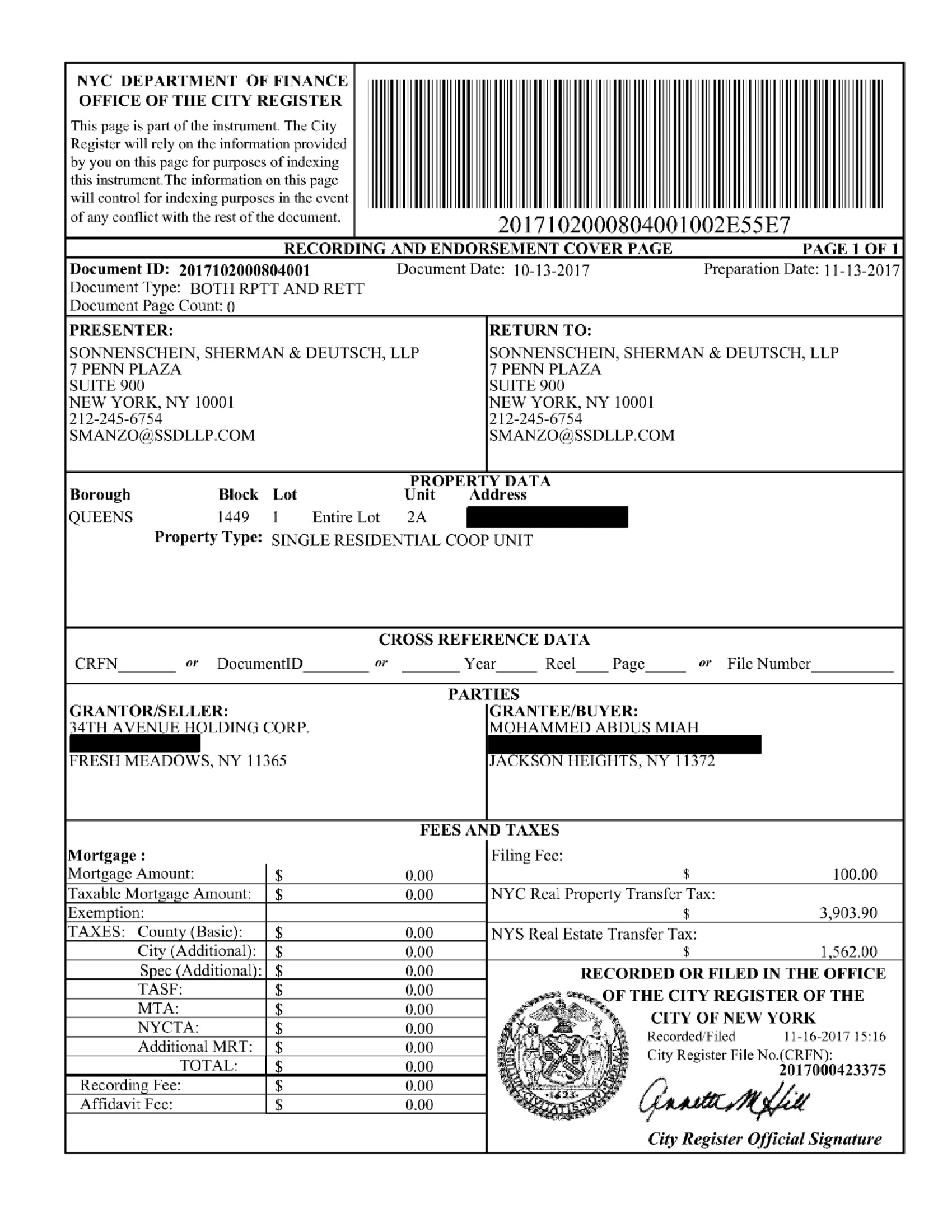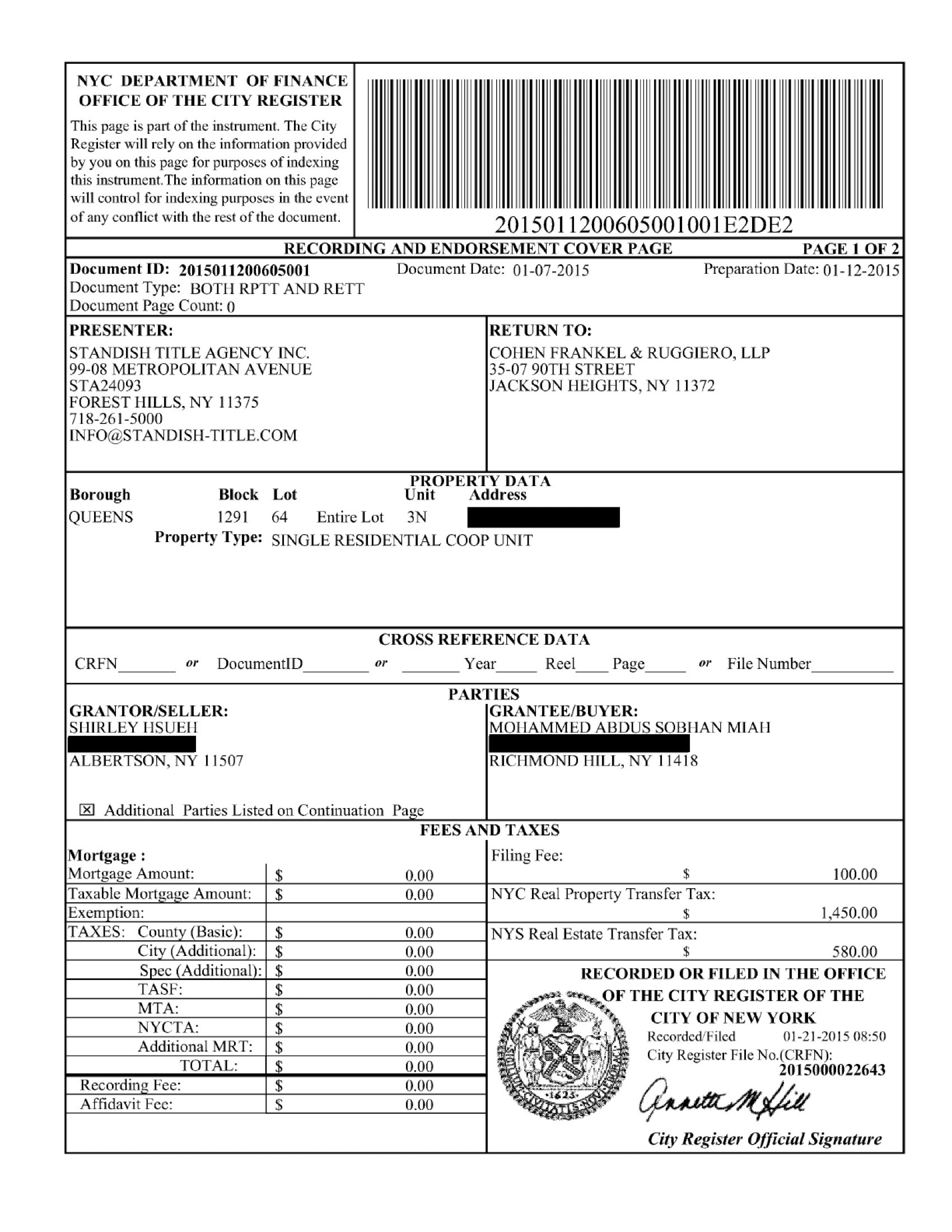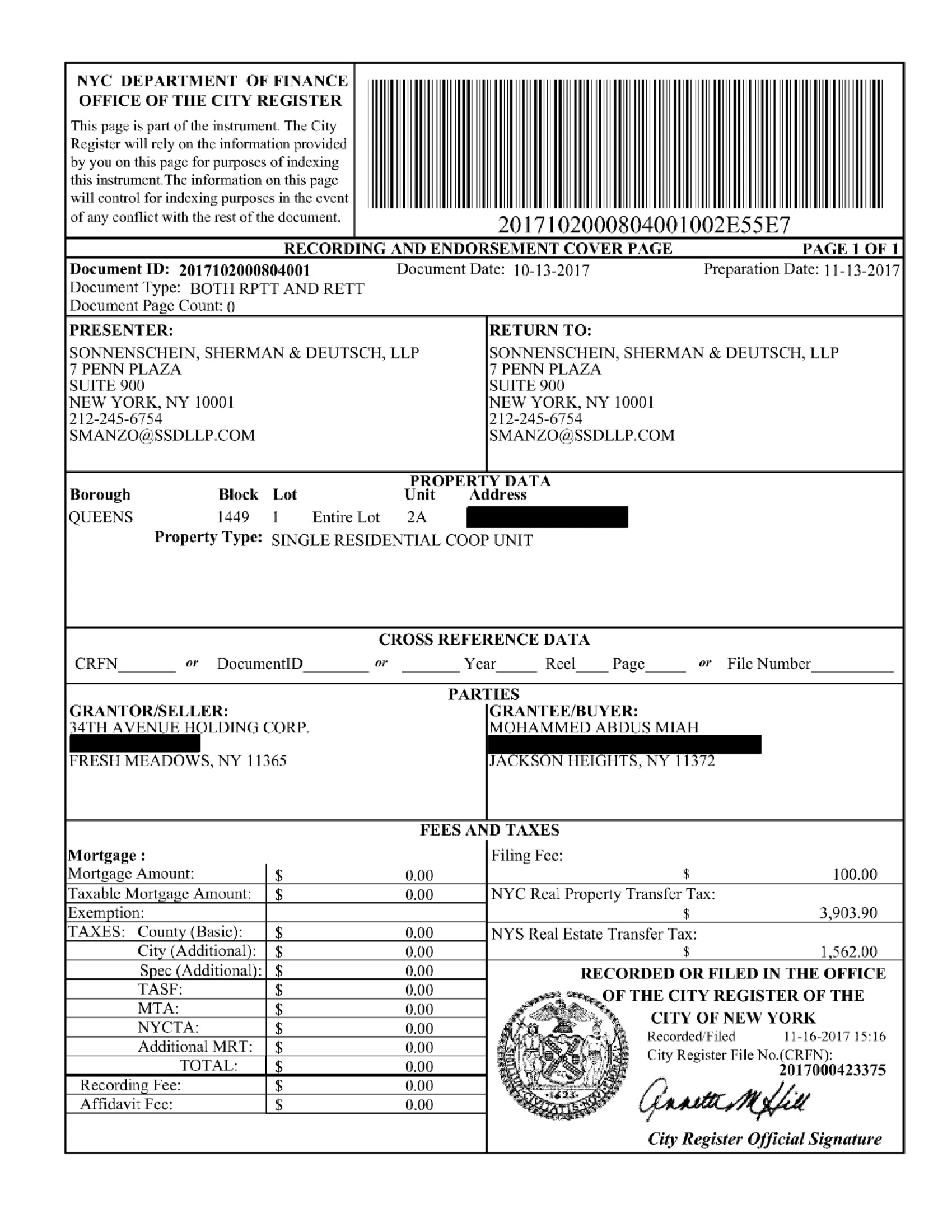 From 2014 to 2018, Mia bought five condominiums in Jackson Heights for a total of about $2.4 million (at that time) in a house with a concierge, outdoor pool and covered parking. He bought three more apartments for $680,000 in co-op houses in the neighborhood.
According to data from the New York real estate registry, all properties were bought for cash. Mia's wife, Gulshan Ara Mia, is also listed as their owner.
In December 2019 – after becoming a parliamentarian and with a monthly salary of around $647 – Mia bought another piece of Jackson Heights property: a nearly $1.2 million townhouse.
Journalists learned that Mia broke the law when he ran for the Bangladesh parliament
The most detailed information about Mia's finances is contained in the asset declaration he filled out when he ran for Parliament in 2018.
In Bangladesh, he declared a five-story building in the Mirpur district of Dhaka. He pointed out that the building costs about $40,000 and generates an annual income of $6,000 through rent. Mia also declared approximately $336,000 in stocks and other investments, some $142,000 in bank deposits, and $32,000 in gold.
According to the document, his wife, Gulshan Ara Mia, earns approximately $103,000 a year by owning half of the shares in telecommunications company Roots Communication. She also listed property valued at around $62,500 in the Uttara district of Dhaka, bank deposits of around $203,000, investments of around $737,000 and $32,000 in gold.
Neither the politician himself nor his wife indicated New York or other offshore assets in the declaration. Rafikul Islam, a former Bangladeshi electoral commissioner, told OCCRP that Mia could get in trouble for not declaring property in New York.
"If it is confirmed that he lied about foreign assets in the declaration, he may lose his seat in parliament. There will be questions for him," says Islam.
In declarations, candidates attach snapshots of assets at the time of filling out the document and provide minimal – or no – justification for the funds to purchase them.
However, even if the couple saved up money to buy real estate in New York by 2014, they could not legally withdraw them from Bangladesh. Such transfers are approved by the Central Bank, which considers all applications on an individual basis. Usually, only withdrawals are allowed for student support or treatment – certainly not the purchase of real estate.
Photo: OCCRPThe house in Jackson Heights, where Mia has five condominiums.
Mohammed Sirajul Islam, who until October 2022 was Bangladesh's central bank spokesman, told reporters in August that a person living and working in Bangladesh would not be allowed to withdraw funds from the country.
"Being in Bangladesh, it is impossible to buy property abroad with money earned in Bangladesh," he explained, but declined to talk about Mia.
"No one can send money abroad to invest in foreign assets," Islam stressed.
Bangladeshi citizens residing in the country are also required to report offshore property or foreign income to the tax authorities. However, Mia's tax return, which he sent to the Bangladesh Electoral Commission, does not list New York assets.
Ross Delston, a Washington-based lawyer and financial crime expert, said the US should pay more attention to cases where PEPs like Mia buy property in the country, as they carry high risks of bribery and other forms of corruption.
Right now, there are a lot of shortcomings in the American financial system. For example, American banks themselves define "politically exposed persons", and local realtors are not required to comply with anti-money laundering measures.
"There is a reason dirty money from all over the world ends up in the US," says Delston.